September 21st, 2008
Park View Business and Enterprise School – Birmingham
The Task: Working with Year 8 students to raise their aspirations, encouraging young girls to think about enterprise through a practical activity. Working in small groups, the young girls were encouraged to develop an idea around producing a school newsletter, facilitated by roles models.
1.  What did the young people had to say about the experience.
*   increased our confidence
*   working in co-operation
*   helping each other
*   independence
*   working as part of a team
*   taking part / having a go
*   getting to know other people
*   knowing what you want to do and achieving it
*   organisational skills
2.  Did the activity help you to develop a positive attitude towards enterprise.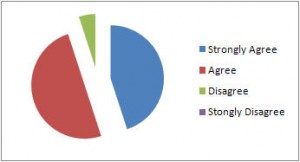 3.  Feedback from the school
Overall we were very pleased and as you can see from the feedback from the young people so were they.